Message From The Principal
Greetings Lions,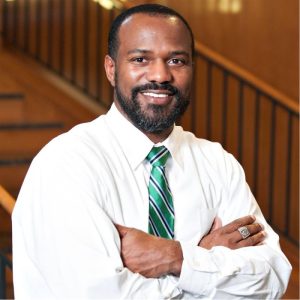 I am overjoyed to have the opportunity to become the Principal of Robert F. Smith STEAM Academy. I am Dr. Fernando Branch, the Interim Principal of the Robert F. Smith STEAM Academy. I am writing this letter to share my vision for RFSSA.
Above all, it is a great privilege of mine that you have entrusted me to become a part of your community and your youth's academic journeys from ninth grade through graduation into college matriculation. Our school was created to embody the spirit of Black Excellence. Although we have relocated to a stand alone campus in the Parkhill/Skyland community of Northeast Denver, we are excited about this opportunity and the rich community history that defined this area once as the Harlem of the West.
Our school is modeled after several shared values from Historically Black Colleges and Universities, aiming to cultivate a powerful learning experience to affirm the discovery of self and purpose within each scholar.
As such, we support the HBCU experience because we understand its impact from the past and in the present. HBCUs make up 3% of all colleges and universities and produce 27% of Black professionals with degrees in STEM fields. HBCUs have produced 40% of all Black engineers and 50% of all Black lawyers in America…70% of Black doctors in our country attended an HBCU and 80% of Black judges are alumni of these schools.
As an alumni of a Historically Black University, I understand the rich history and greatness that fosters generational change by increasing social mobility for many that are first generation college students. These schools embody Black culture and community by teaching a history of self and empowering our young adults to create innovative change in their communities for life.
That is the environment we seek to establish and maintain at the Robert F. Smith STEAM Academy. A space characterized by deep and authentic relationships between learners, parents, and educators. Class of 2027 welcome to the family. We look forward to seeing your academic and personal growth over the next 4 years. It is with great excitement that we look forward to making Robert F. Smith Steam Academy, the Flagship of the West.
Educationally Yours,
Dr. Fernando Branch
Interim Principal, Robert F. Smith STEAM Academy