Message From The Principal
Greetings,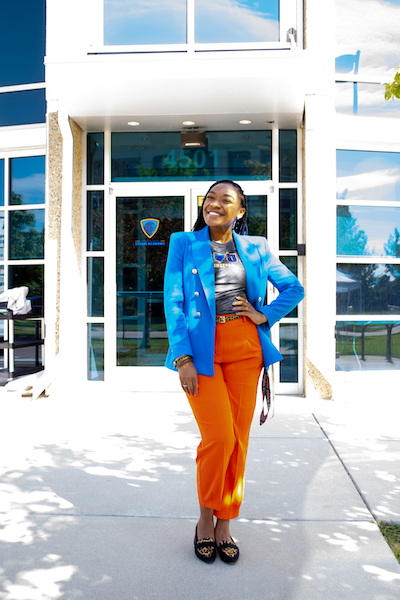 I am Shakira Abney-Wisdom, the Founding Principal of the Robert F. Smith STEAM Academy, a new High School in the Far Northeast Region of Denver Public Schools. Modeled after Historically Black Colleges and Universities, the central goal of our school is to elevate the powerful impact of our past and affirm the purpose within each scholar.
Every person I know who has attended or graduated from an HBCU has fond memories of their institution and are able to trace their success to the irreplicable experiences Historically Black Colleges and Universities provide. HBCUs make up 3% of all colleges and universities and produce 27% of Black professionals with degrees in STEM fields. 21 of the top 50 institutions for educating Black scholars who go on to receive their doctorate in Science or Engineering are HBCUs.
As a learner and leader at a Historically Black University, I understand the impact of being in an unapologetically Black space complete with rigorous academic experiences, rich traditions, caring intergenerational relationships, strong community, and an incredible sense of pride. HBCUs embolden sense of self and empower individuals to create tangible change and have a global impact.
That is the environment we seek to establish and maintain at the Robert F. Smith STEAM Academy. A space characterized by deep and authentic relationships between learners and educators, intentional implementation of restorative practices and engagement with new ideas and different ways of being. Through meaningful connections between content areas of study, engagement with community programs and partnerships with postsecondary institutions, scholars will have opportunities to create solutions to problems in their community, nation and world.
The intersection of Science, Technology, Engineering, Arts, and Mathematics with a Project-Based approach to learning is a sweet spot where we can honor student voice and value the pursuit of performance at the highest level. It is with great excitement that I look forward to welcoming the Founding Class of 9th grade scholars who will embody diligence and excellence in every endeavor.
With excitement for what's to come,
Shakira D. Abney-Wisdom
Founding Principal, Robert F. Smith STEAM Academy